St Mary's Uttoxeter – Bell Ringers
Heard but not seen!
The primary reason for bell ringing is to witness to the glory of God and call the faithful of the Parish to worship. However it's a fact, that in this electronic age, many people, especially the young of the town, think the sound of the church bells in Uttoxeter come at the press of a button! It's also probably due to the fact that the small band who pull the ropes and ring the eight bells are for the most part unseen.
The bell ringers are proud support the church and to play a part in the life of Uttoxeter. As well as being rung regularly on Sunday mornings between 9.00 -9.30am the bells are also rung for weddings and funerals too, and for local Civic and National events, including Remembrance Sunday. They were also rung recently in celebration of the Queens Diamond Jubilee and the start of the 2012 London Olympics.
What is bell ringing? Visit: https://cccbr.org.uk/what-is-bell-ringing/
For more information about our historic eight bells visit: http://dove.cccbr.org.uk/detail.php?searchString=U...
To see our bells and ringers in action https://youtu.be/epTSER2tiik
More ringers are always needed, so we can ring a full complement of bells whenever required or asked to. If you can already ring, and have just 'lapsed', or are new to the Uttoxeter area and would like to start ringing again we would love see you. Come along on a 'Practice Night', Thursdays 7.00 - 8.00pm, equally get in touch if you would like to learn to ring - something which has been said to be "comparatively unusual, but very much part of the fabric of English history."
Wedding Bells
Part of the joy of getting married in St Mary's is the bells ringing out in celebration of your marriage.
Our small band of dedicated bell ringers follow the local tradition of ringing for 20 minutes before the wedding and about 20 minutes after the ceremony. If you would like to have bells rung at your wedding let the Parish Office know as soon as possible.
Picture Caption: The Bishop of Lichfield, Michael Ipgrave joins the Uttoxeter ringers on 'Practice Night'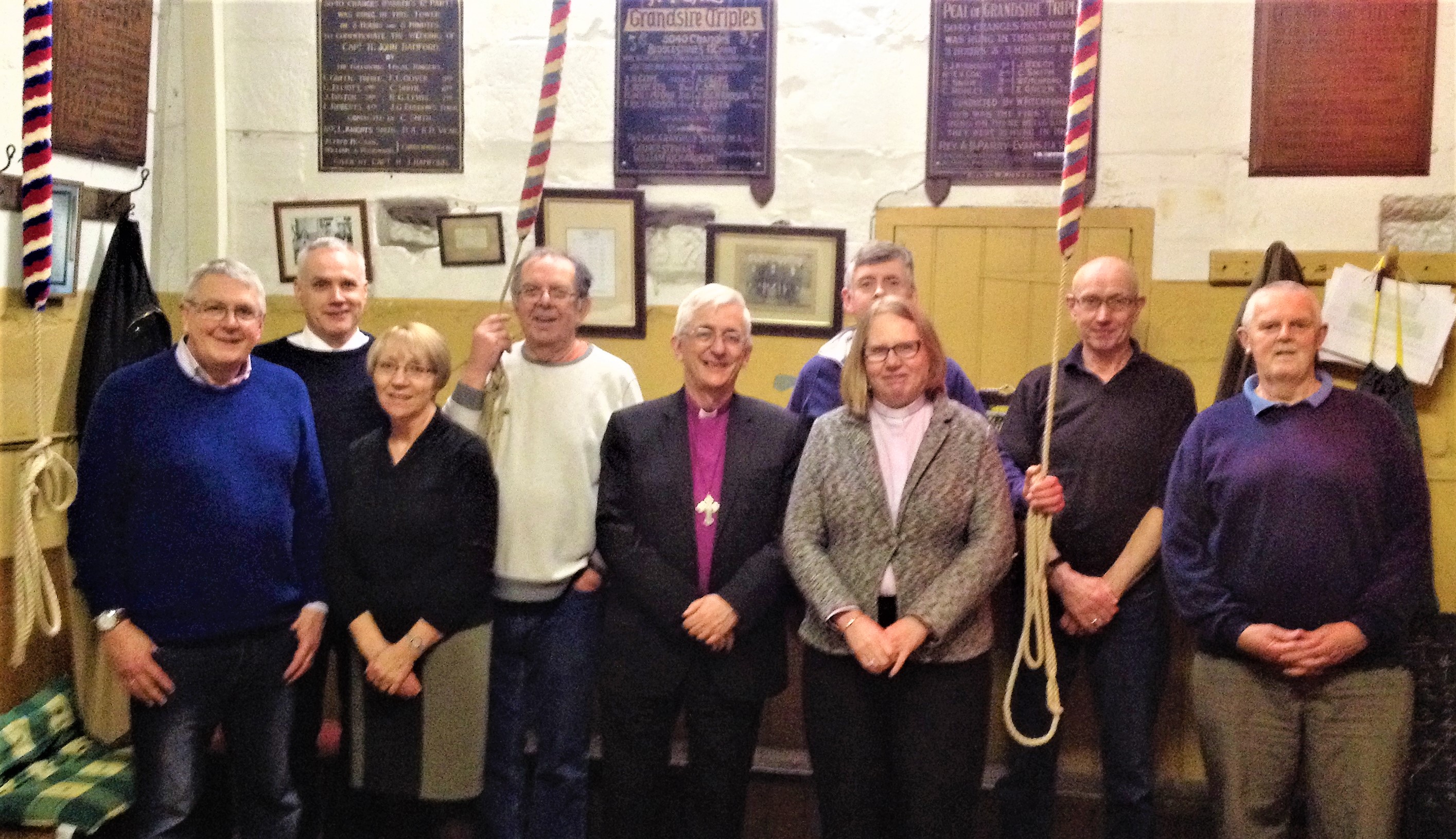 The Carillon contains a rotating drum with pins, very much like a mechanical music box. The pins operate hammers which strike the bells to play a tune. Tunes are played five times a day, on the hour every three hours, from 9am to 9pm with a different tune being played on each day of the week. A plaque sited upon the Carillon records that it was given by the townspeople of Uttoxeter and dedicated on 20 March 1949. The Clock and Carillon were made by Smith of Derby http://www.smithofderby.com/ who still maintain them today on behalf of the Uttoxeter Town Council.